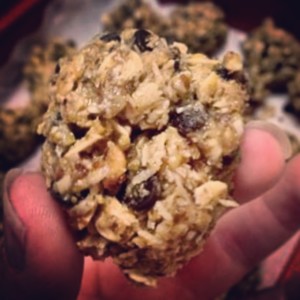 I am always having conversations with new moms about what to eat as they are also breast feeding and growing their babies. It is so important to keep your fat and protein levels up because without it, your body gets robbed of the good fats and amino acids that not only grow the baby, but also are in charge of serotonin production. The book, Potatoes NOT Prozac, is one of the best explanations about how diet is integral to mood. It goes into detail about how keeping protein levels high and simple sugars low feed the brain!!
I love me some Jenny Barron-Fishman! She is the owner/mother of Sweet Pea's Studio-a home for prenatal massage, yoga, midwives and all sorts of momma goodness and love! She has been practicing massage therapy for over 20 years, specializing in bodywork for the childbearing years, an expert in yoga, a labor support and postpartum doula and is a birth and breastfeeding educator. It is no wonder she is my leading expert on all things mommy!
I borrowed this recipe from her! #YUM!
RECIPE FOR LACTATION COOKIES
Booby Bites….an energy snack for nursing moms …and everyone else!
These "booby bites" will help boost lactation while providing lots of protein and vitamins as well!
1 cup of old-fashion oatmeal
1/2 cup of peanut butter
1/2 cup ground flaxseed
1 cup shredded coconut
1/3 cup of honey
1/2 tablespoon Brewer's Yeast
1 teaspoon vanilla
1/2 cup mini chocolate chips
1. Combine the dry ingredients first:oatmeal, coconut, chocolate chips, Brewer's Yeast and flaxseed.
2. Add the peanut butter, honey and vanilla and turn your mixer on low(or stir together).
3. Refrigerate mixture for at least on hour.
4. Roll into small balls. Enjoy!!!